Home

Thanks to Monterey County Gives! your year-end donation will go further than ever. Each participating nonprofit receives a prorated share of the match based on the total donations during the campaign. Each group may receive a match on the first $75,000 raised, to ensure the overall match fund is shared equitably among all participating nonprofits. Since the program began in 2009, Monterey County Gives! has helped local nonprofit organizations raise over $12.1 million. In order for the Guild to receive matching funds, all donations must be submitted no later than December 31, 2017.
IT'S EASY TO GIVE and the best way to is to make a secure donation online by visiting  https://www.montereycountygives.com/nonprofit/the-forest-theater-guild/ What better way to celebrate Christmas than by sharing what you have to make our community stronger than ever. Every gift matters. Your generosity can make a difference today.
If you'd rather mail us your donation all checks MUST BE MADE PAYABLE to "Community Foundation for Monterey County" and include "Forest Theater Guild" on the memo line. Then, mail your gift to:
Forest Theater Guild
PO Box 2325
Carmel, CA 93921
---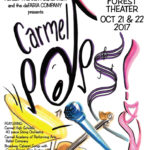 Buy tickets for "CARMEL POPS!" Presented by the Forest Theater Guild in association with the Forest Theater Foundation and the deFaria company, in partnership with Carmel Academy of Performing Arts/Dance Kids and Carmel High School, this event, written and directed by legendary local Walt deFaria, includes performances from Carmel High Schools award winning 40 piece orchestra and a Cabaret style presentation of song and dance. From Ballet to Tap, from contemporary to classic, showcasing a variety of local performers with something to please everyone. Hosted by the beautiful and talented Gracie Poletti who is joined by gifted local favorites Reg Huston(philanthropist of the year!) and John Daniels, this is an evening that you can't help but feel good about as all proceeds benefit the participating organizations youth programs and scholarship funds; these are all local community performing arts groups. If you enjoyed last years Centennial presentation then this is a show you're sure to enjoy.
---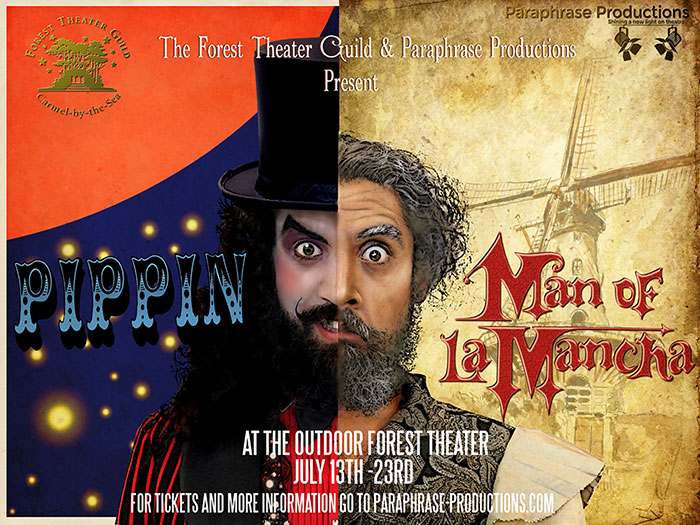 Buy tickets for "Pippin" presented by The Forest Theatre Guild and Paraphrase Productions
Buy tickets for "Man of LaMancha" presented by The Forest Theatre Guild and Paraphrase Productions
---
---
---
We now have a way for you to make a secure online contribution :
Working with paypal, we have made it easy and secure for you to make one time or recurring contribution to support our programs and productions. Please see our membership page … the last button is our temporary location for this donation station. Thank you so much for your continuing support throughout the past, during the closure and now. We had a fabulous summer at the theater with the world premiere of a local playwrights work "Pirate Booty" and phenomenal award winning shows like "Big-The Musical" with local directing legend Walt deFaria, "Pippin" and "Man of La Mancha" in collaboration with Paraphrase Productions, Films in the Forests and some fantastic special events in Carmel and around the peninsula!
---
---